Socio-economic characteristics of the community that determine ability to uptake precautionary measures to mitigate flood disaster in Kano Plains, Kisumu County, Kenya
Geoenvironmental Disasters
2015
2:26
Received: 29 July 2015
Accepted: 17 November 2015
Published: 25 November 2015
Abstract
Background
Kano Plains, Kisumu County, Kenya experiences more severe river floods which is slow onset and predictable. The cost of annual relief and rehabilitation measures in Kano Plains alone is estimated at Kshs 57 million or US$ 600,000. This is attributed to the fact that since disasters do not occur frequently, people feel highly burdened to participate in community-based disaster preparedness activities during normal times when nothing happens. In this context, perceived risk does not contribute directly to taking protective responses. Thus, the socio-economic characteristics of the community and how these influence uptake of precautionary measures is the subject of inquiry in this paper.
Results
The data for the study were collected through a survey of 384 households, five focus group discussions, and 21 key informant interviews. Descriptive analysis and frequency distribution were used to describe the data. Chi-Square test to determine the strength of the association between the variables and uptake of precautionary measures suggests no significant difference between education level and uptake. Binary logistic regression showed a significant difference on low uptake between those who lived within 2 Kms of River Nyando compared to those who lived more than 2 Kms from the river.
Conclusions
Findings confirmed that high level of uptake of precautionary measures was dependent on distance, household composition, income, occupation of the household and social network type. It is hoped that these findings will encourage the government of Kenya to develop a policy that specifically informs residents of the flood prone areas on allowable distance from the river to where houses can be erected because some precautionary measures the households have employed involved moving to higher grounds.
Keywords
Socio-economicUptakePrecautionary measuresFlood disaster mitigationKano PlainsKenya
Background
Over the past decades, the pattern of floods across all continents has been changing, becoming more frequent, intense and unpredictable for local communities, particularly as issues of development and poverty have led more people to live in areas vulnerable to flooding (Terumoto 2006). Floods are the most reoccurring, widespread, disastrous and frequent natural hazards of the world (Aloysius 2012). Flooding accounts for approximately one third of all natural disasters in both the developed and developing worlds (United Nations International Strategy for Disaster Risk Reduction/UNISDR 2012).
According to World Disasters Report (WDR) (2014), in 2013, floods accounted for 44 % of deaths caused by natural hazards -more than any other natural hazard, including storms, which accounted for 41 %. Almost 100 million people were affected by disasters in 2013 and by far the worst affected region of the world was Asia with a staggering 87 % of those affected by disasters in 2013. Most deaths were caused by floods, and natural hazards caused losses estimated at 118.6 billion US dollars in 2013, the fourth lowest of the decade.
The potential consequences of floods are profound, particularly on people in the less developed countries of the world, such as Africa, Asia, and Latin America (Adedeji et al. 2012). Almost two (2) billion people were affected by disasters in the last decade of the 20th century. Eighty-six percent (86 %) of these were floods and droughts (United Nations Environment Programme/UNEP 2006). Much of flooding in Africa has been attributed to global warming (British Broadcasting Corporation (BBC) 2007 and National Geographic News NGN) 2007) and this is characterized by extreme hydro-meteorological events, which will likely increase in frequency and magnitude due to climate change.
Most parts of the sub-Saharan Africa (SSA) are vulnerable to flooding with East, South and Central regions having the most prevalent flood disaster, followed by West Africa (Ngoran et al. 2015). Burkina Faso, Chad, Ethiopia, Ghana, Senegal, Sudan, Togo, Kenya, Liberia, Mali, Niger, Rwanda, Malawi, Mozambique, Nigeria and Uganda are the worst hit by floods in SSA, affecting farmlands, settlements and other ecosystem services. The worst single flood incidents in SSA happened in East Africa: one incident in 1997 slew 2,311 people in Somalia; and another in 1999 affected 1.8 million people in Sudan. Sub-Saharan Africa's disaster profile is closely linked to the vulnerability of its population and economy and their often-low capacities to cope with natural hazards. For example, in Madagascar, Post Disaster Needs Assessment (PDNA) indicates some losses were avoidable and often caused by weak housing and construction standards. Following a disaster, poor populations often have no other option than to carry out sub-standard reconstruction and resettlement in high-risk areas. Most responses address only one type of hazard or economic sector such as urban floods in Senegal, or droughts in Ethiopia. This is approach is comparable to disaster response in Kano Plains where a number of projects only address one type of hazard: floods. In this area, the limited intervention for disaster risk reduction has consisted mainly of conventional methods such as structural techniques and the provision of relief (Nyakundi et al. 2010). This study and Nyakundi et al. (2010) indicate a growing belief and dependency on technical approach such as dykes seemingly to be the only method to control the floods. Awareness of other measures for flood mitigation such as public education is still very low.
In Kenya, floods are the most common climatic disasters and the leading hydro-meteorological disaster in East Africa. During the last couple of decades, Kenya has experienced serious incidents of flood disaster, in different parts of the country and caused major disturbances, destroying property and resulting in loss of life. Floods occur due to natural factors like flash floods, river floods and coastal floods. They may also occur due to human manipulation of watersheds, drainage basins and flood plains. For example, in some cases floods have occurred in the river basins even with normal rains because of excess surface water runoff occasioned by deforestation, land degradation upstream. Kenya is affected by floods following torrential rainfall (United Nations Development Program/UNDP 2009). These force thousands of people living in the lowlands to move to higher grounds. The people affected are mostly in western and Nyanza provinces and in Tana River district.
Regionally, Kenya has a very high hazard risk, standing at 6.2 % on risk index against Somalia 8.8 %; Democratic Republic of Congo 7 %; Ethiopia and Uganda 6.4 %; Burundi 5.4 %; Tanzania 5.3 % and Rwanda 4.1 %. For a period running 24 years: 1990–2014, its percentage loss attributed to flood disaster is 71.9 % compared to drought 17.5 %; and landslide 7 %; while combined economic loss attributed to floods stands at 93 % against 19.9 % of landslide (Kenya Disaster and Risk Profile 2014). Average annual loss as a result of floods was 87.8 % against 12.2 % Earthquake. Floods related fatalities constitute a whopping 60 % of disaster victims in Kenya (Huho and Kosonei 2014; Otiende 2009). The cost of annual relief and rehabilitation measures in Kano Plains alone is estimated at Kshs 57 million or US$ 600,000. This is attributed to the fact that since disasters do not occur frequently, people feel highly burdened to participate in community-based disaster preparedness activities during normal times when nothing happens. Thus, perceived risk does not contribute directly to taking protective responses.
In Kenya today- October, 2015, flood is a national issue and worse with the prediction of El Niño that is anticipated in most regions with direct effects of increased surface water levels leading to flooding of low-lying land and roads, as well as increasing the risk of groundwater flooding (Orengo 2015). The government has set aside Kshs 5 billion for exigencies and more than 70,000 National Youth Service personnel will be on standby in case of emergencies. The funds will be allocated to infrastructure, agriculture and relocation of people from areas prone to mudslides and floods. The preparation being undertaken by various counties is to mitigate the effects of the anticipated El Niño floods having witnessed devastating floods in the country in January-April 2015.
In April-May 2015, flash floods hit Kenya, more so in places that had never experienced floods before. For example, Nairobi Central Business District and residential areas (Kileleshwa, Loresho, South C, Nyayo High Rise, Clay Works, Imara Daima, and Nairobi West); Narok; Siaya; Kajiado; Homa Bay and Mandera. The flash flood had devastating effect on people and property: buildings collapsed, roads became impassable, and many were injured and died. In Nairobi, a building collapsed in Mukuru Fuata Nyayo area of South B and the flood also caused chaos on the city's roads during the course of the day. Over 40 people died when a bus was swept away by a swollen seasonal river at Gaduda, about 35 km from Mandera Town in mid April. On the 28th April, 2015, the streets of Narok town were turned to rivers after a massive downpour killing about 15 people (Breaking News Kenya 2015). The flash floods that hit various towns indicate that climate-related disasters are unpredictable and preparation and mitigation are the cornerstone of management.
There has been and still there is poor drainage in the slums of Nairobi and the banks of Nairobi river. In Kibera slums of Nairobi, the confluence between the Mutoine and Ngong rivers as they flow into the Nairobi Dam in the east turns into a raging flood plain that causes destruction to parts of Gatwekera and Kisumu villages each (Achuka 2015). These rivers have had histories of bursting their banks during the rainy season. For instance at Magiwa Estate in Mbagathi, the drainage system that got blocked in May 2015 has not been repaired and yet El Niño flood is anticipated any time now this October, 2015. There is still no evidence of any preparedness activities carried out in the slum area. They say they are not moving; waiting for the government to offer relief supplies. This behaviour is likened to the residents of Kano Plains who know very well that a flood event in the area is very destructive and they should heed early warning of the impending flood and move to evacuation centres /to safer grounds but hold on till the eleventh hour and publicly announce to the world that they are in danger. Reports indicate that in May and June 2015 Nairobi city suffered flash floods that caught the county government unawares and left a huge trail of destruction, claiming lives, damaging roads and property (Achuka 2015).
In Western Kenya, Nyando, Nyakach, Muhoroni and parts of Kisumu East sub-county are usually affected by floods (Onyango
2015
) and this trend is increasingly becoming a major concern to the country's socio-economic development due to the substantial economic and financial losses incurred to respond to frequent flood disasters (Otiende
2009
). The most affected areas are the low lying areas of the country located in Kenya's five drainage basins with Lake Victoria Basin being the most affected. In Nyando sub-county, Kisumu County, River Nyando in Kano Plains, which is located within this basin, is notorious for bursting its banks during the rainy season from March to May and September to October every year. During this season of perennial floods rains can assume deluge proportions within certain areas, such as the delta of the Nyando River, where the equivalent of two months' rainfall can be experienced within a 24-h period. Kano Plains which is located in Western Kenya (Fig.
1
) is however characterized by broken low ridges and river valleys further extends deep into Kisumu East sub-county in Kisumu County (Ocholla
2010
). This region of land formation in the lower course of Nyando River covers approximately 50 % of the Nyando sub-county (Ongor
2007
). The Floods, from the spills of river Nyando and small rivers such as Ombeyi, Awach Kano, Nyaidho, Ang'wecha and Kibos in Kano Plains, occur annually and the cost of moving people from one area to another and of other relief efforts is quite high. During such events, public institutions have to be closed down. By and large, most floods in Kenya occur immediately after the droughts causing devastating impacts (Ocholla
2010
). The community living in Kano Plains, Kisumu County, Kenya, views their perception and risk to flooding as being comparatively low (Nyakundi et al.
2010
). In as much as River Nyando and other rivers in Kenya have a history of flooding during the long rains, no meaningful flood control measures have been taken (Otiende
2009
). Kenya is still at the formation phase in the development of strategies to cope with floods. It is still in the process of harnessing the benefits from the rivers, the floods and the floodplains by farming the fertile soils, irrigation and fishing (Bakibinga-Ibembe et al.
2011
). Though literature search in Kenya and the world reveals that mitigation studies and work are continuously going on towards addressing the flood problem in the flood prone areas in Kenya, concentration of population around flood-prone areas and flood-induced damages are continuously increasing (Masibayi
2011
). According to Nyando District Development Plan 2008–2012: Kenya Vision 2030 Towards a globally competitive and prosperous Kenya by Ministry of Planning and National Development GOK (
2009
), Miwani and Nyando divisions have the highest count of poor people. Poor agricultural technology, lack of proper storage, frequent floods, low wages, unemployment, lack of markets for the rice, the impact of HIV and AIDS (with 29.4 % infection rate) and low commodity prices are some of the factors that aggravate poverty in the areas. According to Kenya National Bureau of Statistics-Keeping you informed Economic survey 2014 by Ministry of Planning and National Development GOK (
2014
), the poverty gap (how far off individuals are from poverty line) of Kisumu County is 9.0 % against a total population of 951,587. This means therefore that it is not easy to convince a poor person to listen to information about and take actions to minimize losses as a result of flooding.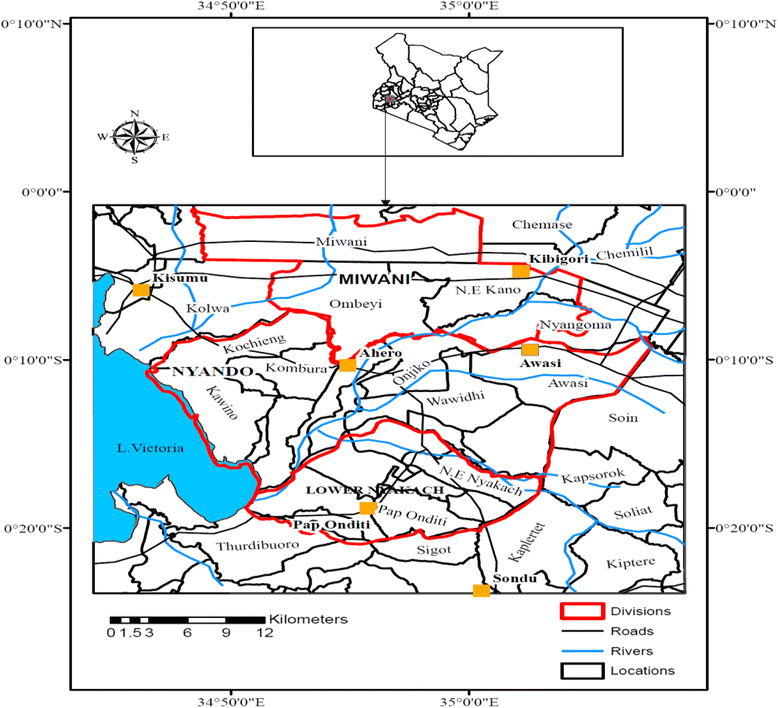 Thurairajah et al. (2010) assert that many nations carry out actions that are related to elimination or reduction of the probability of the occurrence or reduction of the effects from unavoidable disasters, the lack of incorporation of the local conditions and vulnerabilities act as a hindrance to their success. This bespeaks the need to include local knowledge and skills from specific communities in disaster prevention activities.
MacLeod (2003) recommends that involving community members, not only increases the likelihood of increased action by communities to help mitigate flood disaster, but also brings communities together to address flood issues cooperatively. In the event of a flood, cooperative actions among communities can lead to a great probability of decreased damage, deaths and economic devastation in the affected communities.
Opondo (2013) findings reveal that many of the coping measures at the household level such as selling of property and reliance on support from public and private agencies, and temporary relocation and migration, are erosive as they have negative long-term effects on household livelihood sustainability. He recommends that interventions such as construction of dams and dykes could benefit from the wealth of traditional knowledge accumulated over the years by the local communities.
Nyakundi et al. (2010) and Shen (2010)) findings on flood risk perception studies in rural and urban settings respectively conclude that perception of risk is influenced by several variables, most notably past experience of major floods and having survived them. There exists an excess of confidence in structural measures which has made the residents underestimate the impact of accumulating risk and biased the decision-making process.
Parker, Priest, and Tapsell (2009) correlate socio-economic variables to flood warning response. For example, tenure or ownership usually influence householders' and business owners' response. Apart from the patchiness in geographical coverage, they further cite age, gender, education level and socio-psychological processes as variables affecting flood warning response.
In 2010 flash floods that hit Lower Nyakach and Nyando divisions badly, Kenya Red Cross Society (KRCS) advance team from Nyando branch and the Provincial administration conducted a rapid assessment and at the same time activated the sensitization campaigns for people to move to higher grounds for those at risk of the flash floods. The team, through the KRCS, distributed food and non-food items to the displaced families as an emergency intervention. It is understood that emergency intervention by the KRCS encourages the inhabitants of the flood-prone Kano Plains to rely on hand-outs instead of preparing to be resilient to the flooding events.
Denga (1990) affirms that people continued to occupy the flood plain as all or most of their economic activities were centred there - including fishing, irrigated rice cultivation and other cultivation. Other factors which affect individual adjustment include income levels, hazard exposure and levels of education. It is assumed that the flood-affected people already know how to mitigate flooding effects; but the benefits of flood-prone Kano plains outweighs the negative effects. Therefore, knowledge of flooding events and attitude change that influence appropriate practice(s) is paramount if mitigation measures can be sustained. The study thus, explores the socio-economic characteristics of the community that determine uptake of precautionary measures to mitigate flood disaster. The socio-economic characteristics explored here are education level of household, marital status, household composition; proximity to River Nyando, income level and occupation, and social network type one belonged to.
Methods
This study was intended to examine the socio-economic characteristics of the community that determine the ability to uptake precautionary measures to mitigate floods in Kano Plains.
The study also explored the precautionary measures the community undertook after learning about the threat of floods. The measures included removing family, going to evacuation centres, remove household items, alert neighbour, put domestic animals to safety and evacuate to higher grounds among other measures.
Data collection
The research findings in this paper were obtained from a household cross-sectional survey through use of questionnaires conducted among a predetermined sample of 384 households spread across three divisions: Miwani, Nyando and Lower Nyakach of Kano Plains, Nyando sub-county (Fig. 1). The divisions were selected purposively based on geographical location (nearness to River Nyando that spills its waters) and flood experience. Multi-stage random sampling and proportionate sampling were used to select the clusters in the three divisions. Through purposive sampling, the interview schedule mainly focused on the heads of the households (either male of female). The respondents consisted of 53.4 % (203) males and 46.6 % (181) females from 15 years and above. The mean age of the respondents was 39.3 years. Focus Group discussion was used to collect qualitative data from 6 village elders and 32 participants from community-based organizations (2 women and 2 youth groups).
Purposive sampling was also used to select key informants who included officers from government offices (at the sub-county level): County Disaster Committee; schools, local administration, government ministries; Non-Governmental Organizations-NGOs (Kenya Red Cross, Victoria Institute of Research and Development (VIRED), Japan International Cooperation Agency (JICA); Faith Based Organizations (FBOs); and Community Based Organizations (CBOs)- youth and women groups with the richest source of information. Questionnaire instrument used in this study was adopted on the assumptions of Rea and Parker (
2012
) that contend that surveys using questionnaires are the most widely-used data-gathering technique in research and can be used to measure issues that are crucial to the management and development of human resources, such as behaviour, attitudes, beliefs, opinions, characteristics and expectations. Questions about marital status, the highest level of education attained, occupation, income level per month, ownership of household goods, flood experience, loss incurred as a result of last floods, closeness of main house to river Nyando that floods perennially, whether they worry about floods or not and social network type one belonged to were asked to ascertain the socio-economic characteristics of the community. A question on what precautionary measures the household undertook after learning about the threat of floods (14 statements) was asked and respondents were to check only the appropriate actions they undertook as summarized in Table
1
.
Table 1
Precautionary Measures undertaken by respondents
No

Question item

1. Yes 2. No

Action taken, If 'Yes,' score = 1 and If 'No' score = 0

1.

Move family to another location

2.

Call evacuation centres

3.

Call the police

4.

Safeguard house

5.

Remove household items

6.

Alert the neighbour

7.

Put domestic animals to safety

8.

Put valuables to safety

9.

Keeping belongings at the high places

10.

Make trenches in front of the house

11.

Store food grains

12.

Make houses with wooden logs

13.

Make small dams at the entrance of the house

14.

Plant trees at the river banks
The outcome of interest of the study was flood mitigation which was based on level of precautionary measures undertaken by households after getting warnings/education about flood mitigation. Fourteen (14) actions/measures were used to calculate the household score whereby, if the correct action was taken, the score was =1, otherwise, any wrong action was given = 0 (Table
2
). The higher the score, the higher the uptake of precautionary measures, and vice versa. A cut off between 0 and 14 was used to classify the scores into high and low. A high uptake was a score from at least 7 and above. Below 7 was low score. A cut off of 7 points was arbitrarily selected as the mid-point between 0 and 14 which was the maximum point achieved by households. This resulted in a binary dependent variable of high and low as summarized in Table
2
.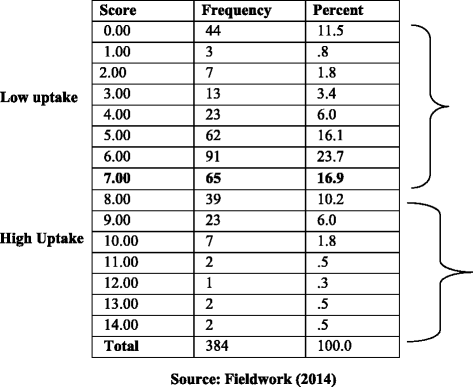 Results and discussion
The socio- economic characteristics that were assessed were marital status of the households, educational level, distance of main house to River Nyando, income level, occupation, household composition, dominant construction material of wall of main dwelling unit and social network type. The study analyzed the results among the respondents with low uptake of precautionary measures to mitigate floods as outlined in Table
3
and explained in the following sub- sections.
Table 3
Socio-economic characteristics of households and association with uptake of precautionary measures
Factors

Responses

Low level of uptake

High Level of uptake

P value

n (%)

n(%)

Highest level of education

None

53(66.2)

27(33.8)

0.094

Primary

84(54.2)

71(45.8)

Secondary

73(68.2)

34 (31.8)

Post secondary

6(66.7)

3 (33.3)

Closeness of main house to River Nyando

2 Kms and below

226(65.5)

119(34.5)

0.007

More than 2 Kms

17 (43.6)

22(56.4)

Level of income

None

107(87.0)

16(13.0)

<0.0001

Some Income

136 (52.1)

125(47.9)

Marital status

Single

47(72.7)

18(27.3)

0.016

Married

87(36.9)

149(63.1)

Widowed

30(47.9)

35(52.1)

Widower

12(70.6)

5(29.4)

Divorced

10(83.4)

2(16.7)

Separated

1(20.0)

4(80.0)

Occupation

Unemployed

39 (84.8)

7( 15.2)

<0.0001

Farming

89(54.9)

73(45.1

Trading

49(54.4)

41(45.6

Artisan

3(42.9)

4(57.1)

Wage employment

36(78.3)

10(21.7)

Salaried employment

6 (85.7)

1(14.3)

Fishing

3 (50.0)

3(50.0)

Other (specify)

18(90.0)

2 (10.0)

Household composition

Large family

155(58.3)

111 (41.7)

<0.0001

Single parent

26 (59.1)

18 (40.9)

One person

51 (92.7)

4 (7.3)

Other (specify)

9 (64.3)

5 (35.7)

Social organization Type

Social news services

39 (62.9)

23 (37.1)

<0.0001

Location-based networking

121 (77.1)

36 (22.9)

Community building services

16 (50.0)

16 (50.0)

Other (specify)

0 (0.0)

1 (100.0)

Dominant wall construction material

Brick/stone (permanent)

44 (66.7)

23 (33.3)

0.531

Others (temporary/semi-permanent)

199(62.6)

119(37.4)
Conclusions
The study confirmed that high level of uptake of precautionary measures was not dependent on educational level of the household or the dominant construction material of wall of main house but was significantly dependent on distance, household composition, income, occupation of the household and social network type one belonged to. This means that during disasters, education level plays a very minimal role in determining protective behaviours of the affected population. What really matters to the population is responding to their individual needs first before anything else. Further research on household motivation for appropriate actions to mitigate floods should be conducted to better inform regional policy.
The study concludes that the community is complacent to flooding and how it impacts on them as long as relief is distributed to them. This is so because only a negligible number of the households are ready to move to higher ground, and that flood time is 'harvest' time. Even if asked to move, it is not clear where they will move and how they will survive there. Livelihoods, land resource, culture and attitude prohibit the community from relocating to other areas even during flooding. Inability to be proactive is also evidenced in the way the government adapts a last-minute rush to put structures in many counties to avert a possible threat of El Nino flood; a time when many government employees have not been paid salaries (e.g. teachers and members of parliament) and total public debt owed stands at Kshs.2.84 trillion.
The attitude of resignation and culture of 'wait-and-see' to a disaster risk if not checked will contribute to a build up of daily disaster emergencies in the country as flooding is increasingly getting worse due to urbanization and destruction of forest cover which results in climate change and its dire consequences on health and food security among others. Thus, expenditure on last -minute flood mitigation measures which are not sustainable will be bloated in all counties every flood season as has been identified.
Recommendations
Policy recommendation
This finding will contribute to the draft National disaster policy in the area of flooding that should specifically inform residents of the flood prone areas on how far away from the river that causes flooding should households be allowed to erect houses because some precautionary measures the households have employed involved moving to higher grounds. Stakeholders should thus emphasize specific messages targeted to residents who live close to the river because of the risk or danger to flooding. This would be one way of enforcing land use laws and regulations to discourage human encroachment into wetlands and flood plains (that act as buffers and filters of flood waters).
In this study, there is evidence that culture operates in particular ways that affect people in their norms and assumptions about daily routines and practices. It influences what priorities should be and what action people should take in relation to risk (flood), and it must be understood and incorporated into any attempt to deal with natural hazards as it will affect any initiatives to deal with disaster risk reduction. However, traditional cultural dictates that make women more vulnerable in the face of disaster threats because of their lack of decision-making power in disaster prevention and preparedness should be discarded and empowerment of the victims to build resilience should be adopted as a mitigation strategy. So long as empowerment measures are economically suitable and address the present problems of the flood-prone community and future development(s) in the flood-prone land, then they should be adopted as a way of incorporating gender and cultural dimensions in the Kenya disaster policy.
There is need for continuous sensitization and preparation for flood disaster throughout the year. This can be done by creating structures in every county and monitoring performance based on set targets, and bearing in mind the unpredictability of disasters. The overall aim is to hold officers accountable to the government for exigencies dispatched to counties to mitigate impacts of floods with no evidence that precautionary measures have been taken in the vulnerable areas. Over-reliance on relief from the government should be fought vigorously; otherwise, the government will lose large sums of money to a community that is insensitive to its vulnerability to flood disaster and also unscrupulous hands. This study recommends a further research on physiological need versus resilience: motivation for disaster preparedness.
Abbreviations
AIDS:

Acquired Immune Deficiency Syndrome
BBC:

British Broadcasting Corporation
CBOs:

Community Based Organizations
DANIDA:

Danish International Development Agency
FBOs:

Faith Based Organizations
FGDs:

Focus Group Discussions
GFDR:

Global Facility for Disaster Risk Reduction and Recovery
GOK:

Government of Kenya
HFA:

Hyogo Framework for Action
HBM:

Health Belief Model
HIV:

Human Immuno-deficiency Virus
JICA:

Japan International Cooperation Agency
K.I.I:

Key Informant Interview
KNBS:

Kenya National Bureau of Statistics
KNDP:

Kenya National Draft Disaster Policy
KRCS:

Kenya Red Cross Society
NDOC:

National Disaster Operation Centre
NEMA:

National Emergency Management Authority
NGN:

National Geographic News
NGOs:

Non-Governmental Organizations
NIB:

National Irrigation Board
OCHA:

Organization for the Coordination of Humanitarian Affairs
PDNA:

Post Disaster Needs Assessment
SSA:

Sub-Saharan Africa
UN:

United Nations
UNDP:

United Nations Development Programme
UNEP:

United Nations Environment Programme
UNICEF:

United Nations Children Educational Fund
UNISDR:

United Nations International Strategy for Disaster Risk Reduction
VIRED:

Victoria Institute of Research and Development
WASH:

Water, Sanitation and Hygiene
WDR:

World Disasters Report
WFP:

World Food Progamme
WMO:

World Meteorological Organization
Declarations
Acknowledgement
This research has been conducted with the help from the Nyando sub-county officers, community policing officer and VIRED for offering an excellent working environment with pleasant and helpful people.
Open AccessThis article is distributed under the terms of the Creative Commons Attribution 4.0 International License (http://creativecommons.org/licenses/by/4.0/), which permits unrestricted use, distribution, and reproduction in any medium, provided you give appropriate credit to the original author(s) and the source, provide a link to the Creative Commons license, and indicate if changes were made.
Authors' Affiliations
(1)
Masinde Muliro University of Science and Technology, Kakamega, Kenya